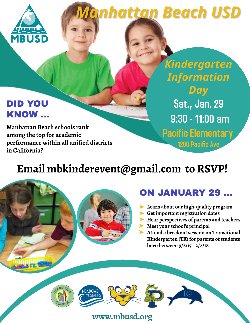 What

Kindergarten Information Day

When

1/29/2022, 9:30 AM

Where

Pacific Elementary School 1200 Pacific Avenue
Join the MBUSD superintendent, elementary principals, teachers, and parents as they discuss and answer questions on what makes public education so successful in Manhattan Beach, MBUSD programs, and a child's transition into elementary school. Get important dates for registration and orientation. Attend a break-out session for Transitional Kindergarten (TK) for parents of students who are born between 9/2/17-2/2/18.
RSVP at mbkinderevent@gmail.com
This event is for adults only.